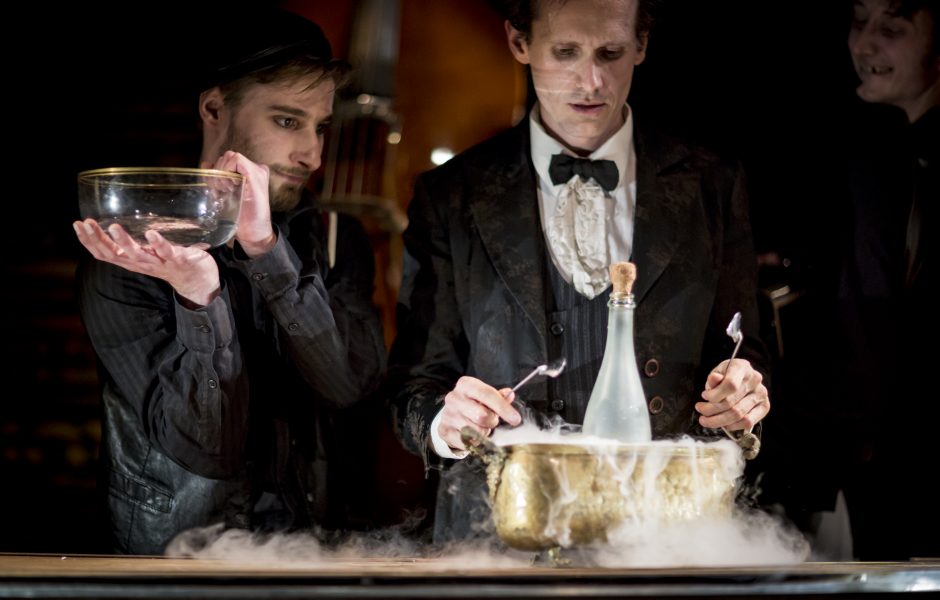 Performances
Fekete Seretlek : KAR
On September 15, 2019 by admin
Theatre of objects & concert on motives of Anna Karenina.
During a funeral dinner, amidst the sounds of glasses and quiet music of the funeral band, instead of saying farewell, the life of departed person starts to reappear. Through random movement of waiters, through inconspicuous combination of music, words and objects, the imagination of the guests reanimates the dead. Finally, even guests themselves become characters from the story of Anna Karenina.
Cabaret of Russian realism creates live dramaturgy on the basis of Russian traditions. Accordion, percussion, violin, cello, contrabass and five voices perform a metamorphosis of music and theater, cabaret and intimate scenes of moving objects. Rhythm is developing until the last moment, in which (on the brink of death) the spectator and the actor suddenly find themselves at the beginning again – at the table with a glass of wine in their hand.
Director: Matija Solce
Musicians: Pavol Smolárik, Anna Bubníková, Jiří N. Jelínek, Ivo Sedláček, Matija Solce, Jan Meduna
Scenography: Marianna Stránská
Production: Studio DAMÚZA – Jan Tyl, Barbora Kalinová, Zuzana Cajtlerová
Coproduction: Palác Akropolis (CZ), MCLU Koper (SLO)